Cronkite, The place to be?
Thursday, October 18 2018 I got to take part in the trip to ASU's Walter Cronkite School of Journalism and mass communications with Sierra Linda's yearbook and journalism class to further our knowlege on potential future opportunities. We were provided with a tour guide who was a current student enrolled at Cronkite. She gave us a glimpse at student life. The group had access to the Cronkite news studio, editing rooms, and control rooms, this provided a "behind the scenes" look at what goes on for the news that they air every night on PBS.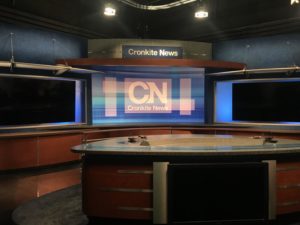 Personally this opportunity has impacted me greatly, with being a senior comes the stress of planning what to do after high school. My original plan was to attend Estrella Community College for 2 years then transfer to a University. After observing the potential at Cronkite and the opportunities that I will get I decided to apply that night. This trip has given me the chance to see what journalism is really about and has allowed me to realize that this is what I want to do for the rest of my life, as it may have impacted others in the same way.