Mark these days down!
Critical dates to add to your calendar!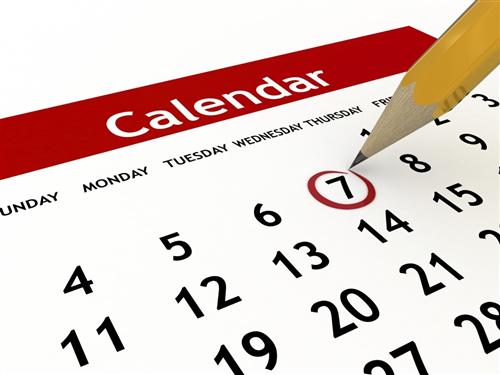 As a senior, you will have many more deadlines to meet than you have in your past 3 years combined. Your calendar, full of tasks and events, ready to be completed.
Many of these tasks include graduation, the senior paper, scholarships, prom, etc.
Here are some dates to add to your calendar for the remainder of your senior year:
March 30th: Senior Agreement Packets due
-Turn in your signed agreement to the bookstore. Signing this agreement acknowledges your participation in the graduation ceremony.
March 31st: Academic Awards Night
-Receive your bronze, silver, or gold medal at the event from 6:30 p.m. to 7:30 p.m. in the cafeteria.
April 5th: Student Athlete & College Recruiting Seminar
-At 7:30 p.m. in the cafeteria, a seminar will be held to discuss how to get college coaches to notice you, how to get recruited, and how to get scholarships.
April 9th: Prom
-One of the biggest events of the school year! A Night Under the Moroccan Moonlight will be held at the Phoenix Zoo from 7 p.m. to 11 p.m.
May 9th: Cap and Gowns Delivery
-Balfour will be delivering cap and gowns during both A and B lunches.
May 14th: CHATOS Yearbook Signing Party (Only for those who pre-purchased)
-Time: 5th and 6th Period
-Location: Cafeteria
-Music, Photo booth, Door Prizes
May 16th and 17th: Graduation Practice
-Practice for the graduation ceremony will be held on both Monday the 16th and Tuesday the 17th. If you still have fees by these days you WILL NOT participate in practice.
May 18th: Graduation
-Time to say our final goodbyes and say hello to a new chapter. The ceremony begins at 1:00 p.m. at the University of Phoenix Stadium.
Senior Scholarship Night
-(See counselors for info)