Fear Farm 2017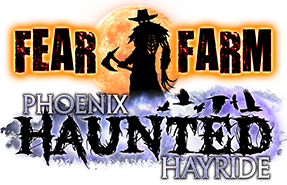 Hang on for a minute...we're trying to find some more stories you might like.
From the city all you can hear are the screams resonating from fields on the farm.  Located on the outskirts of the city, lies a farmland that is home to one of the scariest places in Arizona.  Fear Farm is the largest outdoor haunted attraction in the valley.  30 acres of pure terror, consisting of 5 indoor/outdoor haunted attractions, and for the faint of heart we offer a 10 acre corn maze. New for 2016, Fear farm brings you the all new Phoenix Haunted Hayride.  Guests won't have to travel far to leave the city lights behind and enjoy this ominous oasis of the desert, the Valley's only outdoor Halloween experience with attractions for the whole family.
Fear Farm opens it's haunted gates September 22 through October 31. This year there are 5 horrific haunts all at one location: Slaughterhouse, Undead, The Bunker, Mouth of Madness, and Legends: Goatman! The Phoenix Haunted Hayride will also be returning this as well.
For more info visit:  http://fearfarm.com/index.html
 WARNING! EVENT MAY BE TOO INTENSE FOR YOUNG CHILDREN AND IS NOT RECOMMENDED FOR CHILDREN UNDER THE AGE OF 12