2018 Jeep Wrangler JL
The new wrangler is here.
On Friday December 1st, FCA unveiled the all new 2018 Jeep Wrangler JL. After all the exposed spy shots and leaked images, the new model looks beautiful, but not such a stray away from its roots like other redesigns. The Wrangler's prices were not released at the show. You can choose from three trims: Sport, Sahara, and top-of-the-line Rubicon. Jeep also updated the folding front window , and no wit only takes four screws and locks and the air is in your face. On the JK model, the process for releasing the window took roughly two hours. Also new, The hardtop Jeeps come with the optional power targa top, as seen on the Fiat 500 convertible. The wrangler will offer its natural engine options, and more! Coming in 2019, there will be a turbo diesel option available. In 2020, there will be an optional plug-in hybrid engine as well. The manual transmission has been adjusted for all new models with a gear lock, to prevent the transmission from shaking into neutral because of the ride quality. There will be still be 2-door and 4-door options available, and the leg room in both models have increased by reducing the rear and front overhang on the Jeep Wrangler JL. Jeep also now offers factory lift kits, ligthbars, and many other accessories because they know it's what their customers will do anyway.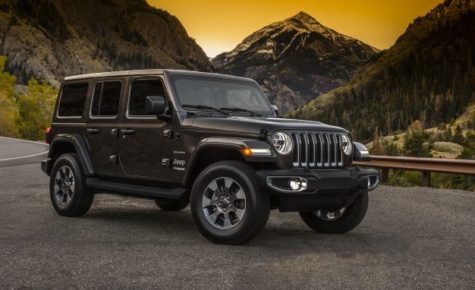 2018 Jeep Wrangler Sahara 4-door.
http://www.nydailynews.com/autos/news/2018-jeep-wrangler-jl-live-stream-los-angeles-auto-show-video-article-1.3665306